Partner With us To Build Next Power station of the future
Delivering Innovative Energy management and EV Charging Solutions
Delievering Innovative Energy management and EV Charging Solutions
Ultimate Solution in providing Cashless EV chargers
We help you to own your next Power station in your parking lot
Partner With us To Build Next Power station of the future
Delivering Innovative Energy management and EV Charging Solutions
Delievering Innovative Energy management and EV Charging Solutions
Ultimate Solution in providing Cashless EV chargers
We help you to own your next Power station in your parking lot
Looking to help build a cleaner and more sustainable future? National Electric Vehicle Infrastructure (NEVI) Grants can help!
NEVI Grants provide funding for projects that support the development of electric vehicle (EV) charging infrastructure across the country. Whether you're looking to install EV charging stations in public areas, at workplaces, or along highways, NEVI Grants can help make it happen.
By supporting the growth of EV infrastructure, we're helping to reduce greenhouse gas emissions, decrease our reliance on fossil fuels, and create a cleaner and healthier environment for all. With NEVI Grants, you can be a part of this movement towards a greener future.
Our platform makes it easy to find and apply for grants that match your needs and qualifications. Plus, our team is always available to provide guidance and support throughout the application process.
Join us in building a cleaner and more sustainable future with NEVI Grants.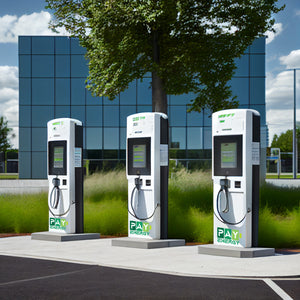 PAYENERGY is the first in nation Non Proprietary Open payment solution for Level 2 and Level 3 Public EV Chargers
Build your PayEnergy Powerstation
Partner with us and we help you build your own power station in your Parking lot 
Contact us at (888) 293-4680 for  for more details 
Install our Cashless EV Chargers at your property location with Zero cost and receive upto 20% Royalty
PAYENERGY Integrated EV Charger payment and Energy Management
With PAYENERGY 's Cashless EV Charger, users can now pay with their credit card, eliminating the need to carry cash and coins. This cutting-edge technology is designed to allow users to pay with ease and convenience, while also managing payment processing cost-effectively. 
The Cashless EV Charger is available in multiple models to fit any budget and requirements. With PAYENERGY 's central charging station, users can manage multiple charging stations in one convenient location and reduce costs more than any other charger on the market. 
The payment management system is connected to customers' bank accounts, allowing them to earn revenue by selling electricity at their desired high price. The Cashless EV Charger operates like a vending machine, eliminating the need for refills or maintenance. This amenity also serves as an effective marketing tool, as it will attract more customers to the location due to the convenience of having electric chargers. Additionally, customers' location will be included in the driving map of popular EV apps, making it easier for drivers to find the facility and start using the service.
Introducing PAYENERGY Centralized Pay Center
Utilizing a paycenter to drive up to 64 Level 2 and Level 3 Charger in your parking lot and reduce the cost of operation
Centrelazide EV Charger PAYCENTER

Add more Charger to your parking lot and Reduced your operating cost
Turn your parking lot to investment

With PayEnergy Dual Integrated Cashless EV Charger
Centrelazide EV Charger PAYCENTER
Add more Charger to your parking lot and Reduced your operating cost
Turn your parking lot to investment
With PayEnergy Dual Integrated Cashless EV Charger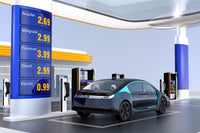 We help you empower your Power station
Our Selection of EV chargers fit for all commercial application