Ten Reasons EV Drivers & Clients Choose PayEnergy
1) Leader in Open Payment & Pay Per Use, EV Vending Machines
2) No Phone, Monthly Subscription, or Mobile App download required
3) Owners/Operators have 100% control of royalty payments & can set up and run there own EV Charging Network, not able to be done with competition 
4) Future Expansion Capability - Proprietary and not available with competitors
 5) Energy Monitoring & Load Management technology  
6) Inventory in stock and ships within 48hrs
7) Ability to control up to 8 chargers with 1 Integrated PayCenter(lower operating costs)
8) PayEnergy only uses the highest quality industrial grade components 
9) Free remote support & troubleshooting 
10) Manufactured in the USA(California)
Option1 : Purchase the Charging Station
In this Program You will purchase the system and will own and operate it . We can Install the system for you and can maintain it,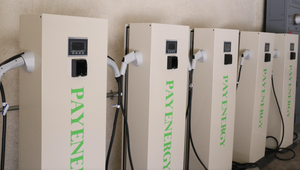 Option2 : Share your property location and receive a Royalty
 In this Program we will own and operate the system and will mange it remotely. We will share portion of the sales proceed with owner. You can also partner with us and share some installation cost and receive more on the sale proceeds.