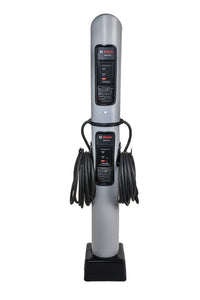 Efficient and Affordable
The EV800 Series Dual Bollard is a great choice for commercial and public EV charging. It is the perfect charging solution for retail locations, restaurants, hotels, public parking areas, schools, apartments, office buildings, or airports. Drivers simply pull up, plug in and charge.
The durable galvanized steel bollard is designed to tolerate harsh weather, vandalism, and light impact. It has 23 foot charging cords, the longest by industry standards, which offers maximum versatility to drivers of all electric vehicles.
The decorative sleeve that covers the bollard is made from post-consumer recycled materials and is extremely durable, while remaining attractive.
Plug-In: No
Hardwired: Yes
Cord Length: 23'
Dimensions: Diameter 7.2" Height 58"
Amperage: 30 amps
Voltage: 95 VAC - 264 VAC
Input/Output Power: 7.2 kW
Input Current: 32 Amps (maximum); 12A, 16A, 24A available / adjustable
Breaker Size: 40 Amps; settings at 15A/20A/30A available
Connector/Cable: SAE J1772
Mounting: Pedestal Weight: 125 lbs
Temperature Rating: -30°F to +150°F (-35°C to +66°C )
Enclosure: NEMA Type 4X; rain, sleet, snow, ice, cold, and heat resistant
QUESTIONS & ANSWERS
Have a Question?
Be the first to ask a question about this.
Ask a Question