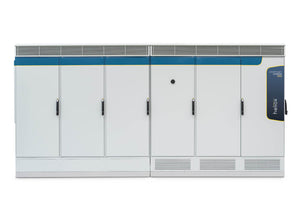 Keep your fleet running on schedule with an EV charger that can recharge a bus in just 5-10 minutes. That way, your buses can run all day and you can achieve a significant passenger capacity increase and cost reduction. The ultimate solution in opportunity charging.
Adds ~5 miles/minute (depending on vehicle type) for ultrashort opportunity charging sessions. The six power cabinets of an Ultra-Fast 450 kW charger can be arranged in two different layouts (line or block), enabling flexible site design options. The Ultra-Fast 450 kW boasts an uptime of 96% and can be used with ease whether you are stationary or on route, offering full flexibility no matter your set-up.
Power: 450 kW
Charging Estimator:  Charging time = 20 min, Distance = 100 miles
System weight:
Ultra Fast 450: 8800 lbs.
DC cabinet: 220 lbs.
600 A IP: 430 lb
QUESTIONS & ANSWERS
Have a Question?
Be the first to ask a question about this.
Ask a Question